Weddings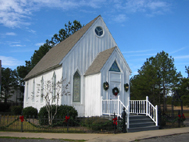 Both the chapel and the sanctuary at Lakeland Presbyterian Church are available for for weddings if either the bride or the groom is a current member of the LPC. Please contact the church office at 601-992-2448 or office@lakelandpres.com for available dates and a contract.
Our chapel, originally built in 1887, seats 80-100 people. The sanctuary seats about 300 guests.
To view pictures of the facility, go to "Galleries" and select either sanctuary or chapel.